OUR DEPARTMENT

We exist to provide superior fire, rescue, and emergency services to the citizens and visitors of Cobb County in a proficient, professional, and compassionate manner. We continuously promote life safety within the county by practicing prevention, planning, education, and training.
Our Vision
To be a professional organization leading the way in setting a standard of excellence.
Values
Respect
Integrity
Commitment
Honor
Cultural Commitments
Fitness
Unity through Diversity
Safety
Education 
Department Facts
Over 700 sworn personnel
Over 63,000 calls annually
Covering 305 square miles
Serving over 755,000 residents
29 Stations (13 Advanced Life Support Stations)
29 Engines
8 Aerial Ladder Trucks
9 Rescue Vehicles
2 Technical Rescue teams
2 Hazmat teams
1 MedOps Team
2 Boats for river/lake rescues
Chief's Office
This email address is being protected from spambots. You need JavaScript enabled to view it.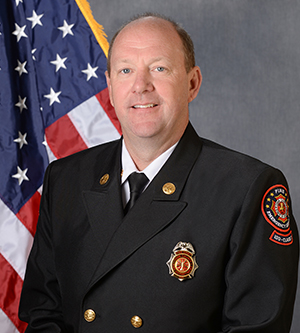 Chief Johnson is a lifelong citizen of Cobb County and has proudly served Cobb County Fire & Emergency Services since 1994. He is well-versed in the operations of the Fire Department, working his way through the ranks distinguishing himself with his leadership and management skills. In August 2020, Chief Johnson was appointed as the department's sixth Fire Chief in its 50-year history. In this role he is responsible for planning the long-range goals, objectives, organizational structure, and overall direction for a CPSE accredited, ISO 1 fire department with over 800 authorized positions serving more than 750,000 citizens and visitors.
Johnson holds a Bachelor of Science in Fire Science from Columbia Southern University. Additionally, Chief Johnson is a graduate of the University of Georgia, Carl Vinson Institute of Government EXCEL Management Development program, is a 2019 graduate of the Cobb Chamber Leadership Cobb leadership program, and serves on several committees.
In his spare time, you can find Chief Johnson spending time in the community with his wife, Kristi, and two children, Emme and Tate.